If you have member news, please submit to cblinka@msn.com.
Bharti Kirchner's essay "Dreaming of the Black Tulip" has just been published in Timeberline Review, autumn 2023 issue. (TR is a literary magazine published from Portland). The essay was nominated for a Kay Snow Award. Bharti's most recent novel, Murder at Jaipur: A Maya Mallick Mystery (Book 3) published recently has garnered praise. A "sumptuous mystery," "engaging and entertaining."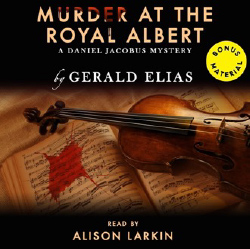 Murder at the Royal Albert: A Daniel Jacobus Mystery by Gerald Elias is being released as a unique new audiobook. Read and produced by Alison Larkin, and with music by the Boston Symphony Orchestra and other luminaries, it will be released on October 30. Combining the talents of a world-class orchestra, author, and narrator makes this a thrilling audiobook, full of secrets and surprises that will keep mystery and classical music lovers on the edge of their seats.
"One needn't be a classical music aficionado to appreciate this clever, pacey entry."—Publishers Weekly