The Puget Sound chapter of Sisters in Crime formed in 1989, despite protests from our parent to the east. In February 1994, Maria Brolley compiled the first story of our origins. Since then, we have gone forward boldly. Our history is told here primarily through Maria's Story, a compilation of stories from members, and a timeline collected from stories and old newsletters.
Maria's Story
February 28, 1994
Enclosed is the "history" of the Puget Sound chapter…
Maria —
WE'VE COME A LONG WAY…

It was a dark and stormy night but the M.W.A. meeting didn't inspire me to write, become a D.A. or a P.I. but Ginny Evans perked up my spirits by announcing that those interested in starting a Sisters in Crime chapter get together an hour before the next M.W.A. meeting to discuss plans. Meet where? In the hotel bar. Maybe J.A. Jance's Dog House diner would have been appropriate (it still existed then) but Jance didn't belong to S.I.C. at the time—she now is a believer.

Alas, only two women showed. This happened in 1989 and for some mysterious reason, this went on for a whole year. Ginny, being a lawyer, is persevering and she kept announcing it until a few of us did get thirsty before one of the M.W.A. meetings and gathered 'round a table, ordered drinks and talked. Maybe Northwesterners are reluctant joiners (e.g., group psychotherapy out here has never been as popular out here as it is out East) and it became obvious that this group of women wanted the chapter to be free-wheeling, informal, no officers, no set agenda—we were interested in reading and/or writing mysteries but we would not be ORGANIZED. Nan Robkin, who is a veteran of organizations in many fields, volunteered to do a monthly newsletter and we haphazardly each chipped in a dollar to take care of mailing—for an unspecified length of time!

We did decide some things, e.g., we would not play the opening act for the monthly Saturday M.W.A. session because this seemed to allow time only for our socializing. So we had our first real meeting in a restaurant, which gave us a private, windowless room lending itself to fantasies of a locked room mystery—or claustrophobia. Then we changed the meeting ambience to a large communal recreation room—brown-bagging dinner. This turned out to be too much of a commute but despite location changes, we, short of bloodletting ceremonies, began concentrating on being Sisters in Crime. The newsletter began including biographical material which could be helpful resources for writing, ranging from cooking to archaeology to finding an agent and much more.

By this time it was 1991 and though we were still a raggedy group, we knew [we] were progressing because we upped the ante to ten dollars a year per member and we'd found a permanent home at the Killing Time Mystery Bookstore in Seattle—the latter by the largess of the owners, Miriam Uhlig and Sue Nevins. We were still officer-free and agenda-less. This began to chafe those who like a bit more structure and in reaction, one energetic person tried to "do it all." And when she realized this was a mutinous bunch, she suggested that it might be time to dissolve the chapter. Well! There is nothing like a perceived threat to bring a group together and that became the challenge—we got ORGANIZED—that plus we found out each local member had to be a national member and we had to have by-laws, etc.

Still balky, we elected two co-presidents instead of one, one instead of two individuals serving as secretary-treasurer, and a membership chair. We now have by-laws and we have gone so far as to have each member responsible for a program. We even have an annual rite, that of an outing at Joan Metheny's home on Whidbey Island.

No matter how much of an anarchist one is, it must be admitted that the changes have been more productive than our old ways. Our less chaotic approach means we've presented polished authors, such as Barbara Wilson, J. A. Jance, Janet Smith, Mary Daheim, and Sharon Sinclair, an expert on things occult, and a variety of discussions related to mystery reading and writing. The informality has led to friendly exchange which pre-empts parliamentary rules but we feel we are past our adolescence and are looking forward to eventual mid-life and perhaps second childhood crises. After all, we do seem to react nicely to crises.
History Timeline
This page under construction as we (re)discover our past. Drop us a line to share your memories with us!
ca. 1988-89
First rumblings about having a chapter. Early gatherings. The beginning of a newsletter, with members paying $1/year membership in order to receive the physical copy. Nan Robkin is the founding editor of the newsletter and will stay in that role through 2018.
1995
2005
Carol Thiel, chapter president, resigns
Hi to all,
This is to let you know that, as things are changing in my life, I am going to be pursuing some different areas of interest. Therefore, I will be resigning my role in Sisters in Crime. I will always fondly remember the Christmas lunch at Crab Cracker, last summer's lively picnic discussions and the many fun meetings, including the very informative demonstration at the gun club!
Good wishes to all of you! Carol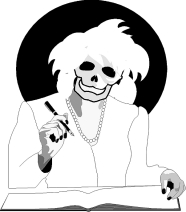 Official logo Boneta Skelton is designed by Nan Robkin and named by means of a contest announced in the April 2005 newsletter. (Mugs with Boneta can be found at Café Press; search for Product #030-866529392)
ca. 2006-2007
Susan Schreyer and Joe Massucco step up to run unopposed for the roles of co-presidents. Nan Robkin continues as secretary/treasurer.
2017
Nomination of new officers, Alice K. Boatwright and Marty Wingate as co-presidents, and Waverly Fitzgerald as secretary/treasurer.
2018
As our new officers were installed, National SinC expected a revision of chapter by-laws to meet their standards. With the new bylaws came a new structure for the executive committee. We transitioned from two co-presidents and a secretary/treasurer to a president (filled by Alice K. Boatwright), vice-president (filled by Marty Wingate), treasurer (filled by Waverly Fitzgerald), and secretary (Sarah Niebuhr Rubin appointed).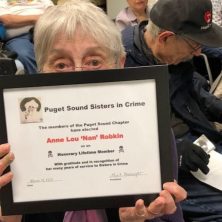 2019
April 11: We celebrated Nan Robkin for her years of service with a Lifetime Honorary Membership, the first for our chapter.
April 27: We held our first-ever all-day workshop, "Heroes, Villains, and Victims: The Eternal Triangle", featuring Nancy Martin and with a panel of local authors.
2020
President: Luanne Brown
Vice President: Charlotte Stuart
Treasurer: Curt Colbert
2021
President: Charlotte Stuart
Vice President: Robert Herold
Secretary: Peggy Barnett
Treasurer: Curt Colbert