Email meeting information and reminders are sent to all Puget Sound SinC email subscribers. To get on our mailing list, click here.
September 9 at 7 PM – A presentation and Q&A with agent Dawn Dowdle of the Blue Ridge Literary Agency (on Zoom)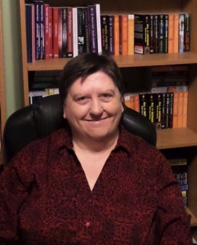 Based on responses to our member survey about what you would like covered in this program, Dawn will discuss a number of topics, including: why you need an agent, communicating with agents, querying, working with hybrid authors, sub rights, and the market for mysteries.
Dawn Dowdle began Blue Ridge Literary Agency, LLC in Virginia in 2009 to help authors, especially newer authors.
Prior to establishing her agency, she was a freelance copy editor and an avid reader of cozy mysteries. Murder at Redwood Cove by Janet Finsilver, Staging Is Murder by Grace Topping, and Murder at Harbor Village by G.P. Gardner, are cozy mysteries she represents that are USA Today Bestsellers.
Recent books she represents include: Knot of This World by Mary Marks, Evil By The Sea by Kathleen Bridge, Maryann's Hope by Molly Jebber, Death of An Editor by Linda Norlander, Checked Out For Murder by Allison Brook, Southern Sass and A Crispy Corpse by Kate Young, The Sheriff's Second Chance by Tanya Agler, and Divide and Concord by JC Eaton.
She welcomes submissions but prefers standalone or the first in a series. Genres and subgenres of interest:
Cozy Mystery
Historical Mystery
Mystery
Suspense
Amish Romance
Historical Romance
Rom-Com
Romantic Suspense
Inspirational Romance
Sweet Romance
Middle Grade Mysteries
True Crime
Cookbooks
Picture Books
October (date TBD) – "What Drives Story: Character or Plot?" with author Roberta Trahan and editor/publishing consultant Jennifer McCord
November (date TBD) – Flash Fiction Night
Anyone who wants to participate can share a story of up to 250 words that is loosely or even remotely linked to an inspiring theme we will share with you soon. Or, if you want to listen and not read a story, that's fine too.
December – Will we party online or in-person? TBD.