February 10: Short, Sharp, and Suspenseful: Writing the Mystery Short Story
7 PM on Zoom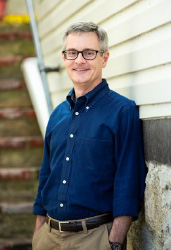 Edgar Award-winning short story author Art Taylor contributed the essay "The Short Mystery" to the new collection How to Write a Mystery: A Handbook by Mystery Writers of America, edited by Lee Child and Laurie R. King. Drawing on his essay, Art shares some tips and tricks for writing short mystery fiction—with an emphasis on economy, efficiency, and focus. Examining excerpts from stories by Patricia Highsmith, Edward D. Hoch, Ruth Rendell, and more, Art's talk touches on the shape and structure of the short story, how to do more with less, and how to make your reader an integral part of the storytelling too.
Art Taylor is the author of the story collection The Boy Detective & The Summer of '74 and Other Tales of Suspense and of the novel in stories On the Road with Del & Louise, winner of the Agatha Award for Best First Novel. He won the 2019 Edgar Award for Best Short Story for "English 398: Fiction Workshop," originally published in Ellery Queen's Mystery Magazine, and his short fiction has also won the Agatha, Anthony, Derringer and Macavity Awards and appeared in Best American Mystery Stories. He is an associate professor of English at George Mason University.
NOTE: You will have a chance to win one of Art's books by being the first to answer a question about Sisters in Crime or writing: The Boy Detective & The Summer of 74 and Other Tales of Suspense. It features 16 stories that have collectively won an Edgar Award, two Anthony Awards (one as editor), four Agatha Awards, three Macavity Awards, and three Derringer Awards.
March 10: Research, Rewriting and Rechecking
With Alice Boatwright and Jeanne Matthews.
April 14: Why Setting is More Than a Place
With Erica Miner and Wendy Kendall.