May 12: Everything You Ever Wanted to Know About Marketing Your Book
7 PM PT on Zoom
The program has two parts: 1) Crave Books Marketing Platform and 2) Member Discussion of Marketing Services – What's Worked and What Hasn't.
Part 1: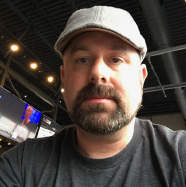 Cary Bergeron is the co-founder of Crave Books. They have over 13,000 authors using their promotional services. They started the platform to fill a need they had with running Arrabella Publishing as well as to help authors frustrated with having to market their own books.
Cary will discuss the Crave Books marketing platform and why they built it, including:
Account creation
Submitting your books
Running a promotion
Building out your profile
Author interviews
Book store options
Cary will also answer questions and will provide a discount for members who want to try out their platform.
Cary was born and raised in New Hampshire but found himself in Colorado after an impromptu road trip with his buddy in the late 1990s and has been there ever since.
After falling into the IT and tech industry, he founded a digital marketing company called Snap in Media and since then has launched and sold several start-ups.
Crave Books is his current venture and is driven by the mission of bringing authors and readers together.
Cary is married with two daughters and a cat. He enjoys travel, good movies, and a great meal. It's rumored he makes a mean eggs Benedict.
Part 2:
We would like members to share their experiences using services to prepare, publish and market your books. What's worked for you? And what hasn't?
Some questions you might answer include,
What editorial services have you used?
What marketing services have you used?
Have you given readings, podcasts, interviews, etc.?
Have you done virtual tours?
Have you paid for reviews (such as Kirkus)?
What kinds of promotions have you run?
Have you participated in giveaways?
This is an opportunity to learn from each other's successes and missteps as we write, publish and sell our books.
Zoom info will be sent to our mailing list subscribers. Sign up here.
June 9: Everything You've Ever Wanted to Ask a Prosecutor
7 PM PT on Zoom
Michelle Walker, Chief Prosecuting Attorney for the City of Kent, will talk briefly about her career and what she does. But the main part of the program will be answering your questions about litigation involving criminal misdemeanor cases, infractions and code violations. If you have specific issues you would like her to address, you can send in your questions in advance to our email at pugetsound.sinc@gmail.com.