March 9: Dr. Neil Bradbury
7 PM (Zoom)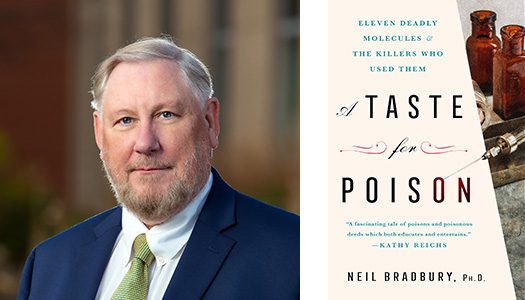 Bring your poison questions as Dr. Neil Bradbury joins us for A Consumer's Guide to Poisons: A History of Poisons in Literature and Crime.
Throughout history, poisons have both intrigued and appalled. From real life murders to the use of poisons in murder mysteries and political thrillers, we will see how poisons are administered, how they kill and what symptoms each poison would cause. So sit back, relax, and make sure you know exactly what's in the coffee you're drinking!
Dr. Neil Bradbury is the author of A Taste for Poison, which Kathy Reichs described as "A fascinating tale of poisons and poisonous deeds which both educates and entertains." With degrees in Biochemistry and Medical Biochemistry, Dr. Bradbury is a scientist, researcher, writer and teacher.
---
April 10: Live Event
7 PM at Third Place Books, Lake Forest Park
Published authors who are members of the Puget Sound chapter of Sister in Crime (and have paid their 2023 dues) are invited to sign up in advance with Marty Wingate to present a five-minute reading of your latest mystery/crime book.
The event will be open to the public, so here's your chance to find new readers! TPB will promote the event and have your books for sale. To keep the event to an hour (allowing those attending time to shop), we can only fit 10 authors in. To sign up to read and for details about bookselling, email marty@martywingate.com.
---
April 13: Promophobia: Taking the Mystery Out of Promoting Crime Fiction
7 PM (Zoom)
This newly-released Sisters in Crime publication aims to help writers get past their fears of social media and events. At this event, authors of essays in this collection, including our own Alice Boatwright, will share their tips and experiences to help you promote your books.
---
May 11: William Kent Krueger
7 PM (Zoom)
We are honored to welcome William Kent Krueger, author of the New York Times bestselling Cork O'Connor mystery series. Set in Tamarack County in the north woods of Minnesota, it features Corcoran O'Connor, is the former sheriff and a man of mixed heritage—part Irish-American and part Ojibwe. Krueger's work has received numerous awards including the Edgar Award, Anthony Award, Barry Award, and Minnesota Book Award. Krueger is also known for his 2019 novel, This Tender Land, a tale with the flavor of a Mark Twain novel.