April 8: Query Letters That Work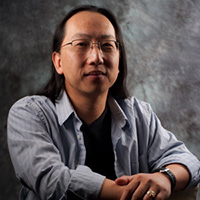 7 PM on Zoom (the meeting link will be sent to individuals on our mailing list; contact us if you do not receive it)
Puget Sound SinC is pleased to welcome noted writer and speaker Curtis C. Chen to speak at our April meeting.
Once a Silicon Valley software engineer, Curtis C. Chen (陳致宇) now writes stories and runs puzzle games near Portland, OR. His debut novel Waypoint Kangaroo, a science fiction spy thriller, was a 2017 Locus Awards Finalist in the First Novel category and a 2017 Endeavour Award Finalist. Kangaroo Too, the second book in the series, received a starred review from Publishers Weekly.

Curtis is a lifelong fan of science fiction and fantasy: the first movie he saw in a theatre was "Star Wars" in 1977, and the first TV shows he remembers watching—as an infant, from his crib—were "Star Trek" (the original series), "Space: 1999," and "Bewitched." He devoured Asimov's Robot stories as a young child, burned through Niven's Known Space novels as a teenager, read a ton of John le Carré even though he didn't get all the political nuance, and once dared to write an assigned book report for English class on one of Diane Duane's "Star Trek" tie-in novels. (He only did that once.)

Curtis' short stories have appeared in Playboy Magazine, Daily Science Fiction, the Titan anthology Infinite Stars: Dark Frontiers, the Baen anthology Mission: Tomorrow, the SMART 25th anniversary collection Oregon Reads Aloud, and many other print and online publications. He is a graduate of the Clarion West and Viable Paradise writers' workshops, and his first writing critique seminar was taught by Pat Murphy and Ursula K. Le Guin. From 2008 to 2013, Curtis posted a new flash fiction piece every Friday on his "512 Words or Fewer" blog. 117 of those very short stories are collected in the book Thursday's Children.

Gamers may also know Curtis as "one of the founders of Puzzled Pint" or "that guy who captained Team Snout." He's been making puzzle events with friends since 2001, and shows no signs of stopping any time soon. You can find Curtis at Puzzled Pint on the second Tuesday of most every month. And yes, there is a puzzle hidden in each of the Kangaroo book covers! Finding the rabbit holes is left as an exercise for the reader. Visit: https://curtiscchen.com
May 13 – Christopher J. Jarmick on Independent Bookstores
Christopher J. Jarmick is the co-owner of BookTree, Kirkland's independent bookstore, and a creative and freelance writer.
June 10 – Tara Gavin on how authors and editors work together
July – Please join us in taking the month off!
August – Annual picnic (Zoom or in-person to be determined)