Thursday, December 8 on Zoom: A Gift of Words Holiday Party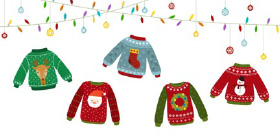 The "Gift of Words" shared by members included humorous poetry, haiku, spoofs, the history of a Christmas song, a happy memory, a "confession" about eating all the Advent calendar chocolates early, and some examples of words and phrases that children (and adults) often misunderstand. (An example of the latter is "France is bacon" instead of Frances Bacon).
Saturday, December 10: In-Person Holiday Party
The event was held at the Markland Woods Clubhouse and involved lots of animated conversation, a table filled with delectable food, and a book exchange. Although there were "clues" on the wrapped books, it was difficult to narrow down the possibilities. But it was fun trying. Past executive team members were acknowledged for their support of SinC and the new team applauded for already starting on making 2023 the best year ever for the organization.