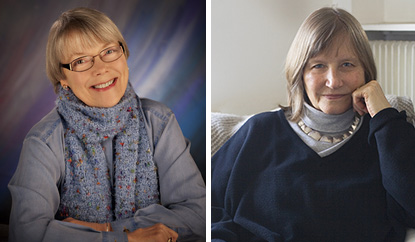 Jeffrey Briggs interviewed local authors Jeanne Matthews and Alice K. Boatwright about their personal processes for getting from the blank page to the finished manuscript. He even suggested adding a fourth "R" to the mix: Repeat!
Some of the topics covered were:
Research
Both authors use a wide variety of resources such as news articles, the web, personal experience, living in or visiting locales used for stories, web-based real estate sites for housing values, comparing legal differences between regions or countries, etc.
Jeanne says she uses research as a "catalyst" for story ideas.
Alice writes first and uses research to support specific content.
Rewriting
Jeanne writes scene by scene but doesn't necessarily recommend it to other writers.
Alice considers first drafts a "pencil drawing" and "underwrites" first time around.
Both do many drafts.
Both encourage reading work aloud.
Rechecking
Both authors advocate rechecking manuscripts for consistency, accuracy as well as for story and character arcs.
Rechecking is more fact checking than revision.
For example, does a 1968 Mickey Mouse watch show time and date?