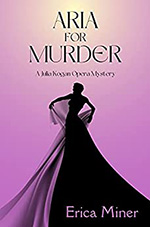 Edmonds author Erica Miner announces the release of her latest novel Aria for Murder: A Julia Kogan Mystery, to be published Oct. 28 by Level Best Books. The first of a 3-part "Opera Mystery" series, the story tells of a young female violinist who is thrust into a murder investigation when a renowned conductor is assassinated on the podium of the Metropolitan Opera. When the violinist teams up with the NYPD detective on the case, she finds herself the killer's prime target.
A former violinist with New York's Metropolitan Opera, Erica Miner is now an award-winning author, lecturer, and arts writer.
Aria for Murder can be pre-ordered on Amazon.
Two members have books that made the short list in Chanticleer's 2022 Murder and Mayhem Book Awards: Roxanne Dunn—Murder Undetected and Charlotte Stuart—Moonlight Can Be Deadly.