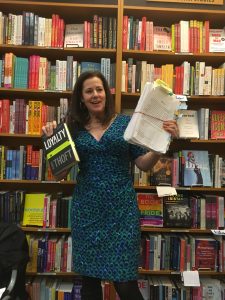 Ingrid Thoft, author of the award-winning Fina Ludlow PI series, was our guest speaker in October. She gave us an insider's perspective on experiences from having to choose between your agent and your book (she went with the book and got a different agent); studying the art of private investigation (very helpful, but she did not become a licensed PI herself); and dealing with the TV world (Is it like riding a rollercoaster or watching paint dry?  Some of both.)
A highlight of her presentation was when she showed us the final manuscript of LOYALTY, the first Fina Ludlow mystery, with its dog-eared pages and many different colored sticky notes. This was a great illustration of how many stages a book must go through before it is really, really done. She also had on hand a copy of the hardcover book that was the end product of all that work.
With four books set in her native Boston behind her, she is now writing about a detective in the Seattle Police Department. A discussion about how authors blend real and imagined settings and rely on both memory and research to create a believable world in their fiction was also fascinating and helpful.
Learn more about Ingrid and her books at http://ingridthoft.com/