We began our Holiday party with an inspiring and witty original carol sung by Cynthia Blair: A Writer's Twelve Days of Christmas.
Our Build A Story activity did not end with the identification of a murderer, but it produced some hearty laughter along the way.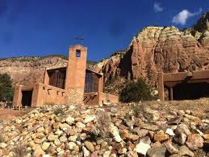 A monestery in a desert wilderness provided the starting point for our story. Participants all added a few sentences to move the story along. Highlights – not necessarily in order – included:
Monk Joe Mortimer is discovered dead (or drunk) amidst a pile of broken Tequila bottles
Poor Joe always wanted to be a Monkey but they hired Mickey Dolenz instead
His pregnant wife, Mary, shows up disguised as a monk and discovers his body
The worms turn out to be shape shifters, turning into coyotes, then back into worms
The Last Train to Clarksville, Christian Brothers Wine, An Edict of Worms and bread soaked in arsenic helped the story progress toward the last clue: the worms eating the bread on the altar were dying
That evening, the monks were hesitant to eat their meal of bread pudding
End of the Year Wrap-up
Participants shared some of their accomplishments of 2020. It was fun learning about what other members have been doing and getting to know each other better.
There were, sadly, no Christmas cookies. Also, the event was attended by a wooden Charlie McCarthyish figure who apparently had nothing to say. He did, however, wave goodbye at the end. (You had to be there—)